There's no better way to get a great workout on the water than with a Stand Up Paddleboard. Work your arms, midsection and legs all at the same time to burn the maximum amount of calories in a short time. But some days you just want to get out on the water and have a leisurely paddle. With Sea Eagle SUPs, you can also sit comfortably on a deluxe kayak seat and paddle with a standard double-ended kayak paddle. The best of both worlds. Say goodbye to unnecessary airline fees and damaged boards from rough baggage handling. These boards weigh less than 13 kg, are incredibly durable and were designed to be checked as baggage.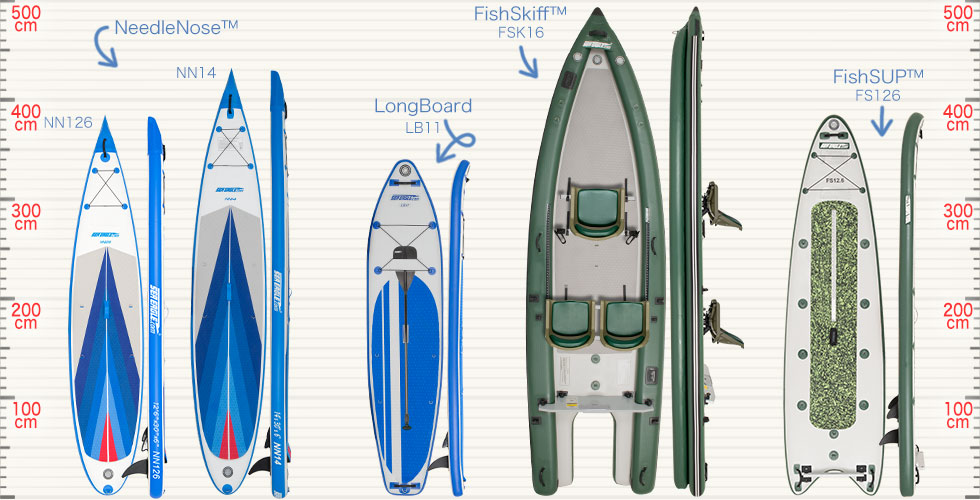 Slices Through Water
The patented NeedleNose™(US Patent #8,821,204) Stand Up Paddleboard gives you the performance of a rigid board with the convenience of an inflatable. Aptly named, the NeedleNose™ features a razor-sharp, wave-piercing bow, elegant curved touring shape with a straight-line, and NO UPTURN hull design. These features make the NeedleNose™ SUPs the fastest, sleekest, and best inflatable SUPs in the world.

Say goodbye to unnecessary airline fees and damaged boards from rough baggage handling. These boards weigh between 10 and 12.7 kg, are incredibly durable, and were designed to be checked as baggage.

Make sure to check out the all-new racing model NN126r. It is 10 cm (4") narrower than the regular NeedleNose iSUPs, making it super fast. Just ask Marta Hogen of Okinawa. She has been getting in the top 3 in her races since changing to the NN126r.
Best For:
Universal Travel SUP
The New Sea Eagle Inflatable LongBoard SUP Series has been completely redesigned and transformed into a true hybrid SUP. Now you can sit, stand, surf, fish, tour, and perform yoga on these wonderful SUPs!

Our LongBoard iSUPs are now made with 6" thick drop stitch material to increase buoyancy, rigidity, and stability. We've also added 4" nose/entry rocker followed by a slight continuous board rocker and finish/exit with a 2" tail rocker.

These combined attributes increase the over all performance, handling, and stability of our LongBoard Series making it a true hybrid SUP that can be used while sitting, standing, surfing and touring.

A full length EVA foam Diamond Deck Pad provides excellent traction and maximum foot comfort while surfing and on extended tours. Custom Performance Kick Tail prevents slipping off the tail and assist with blind foot placement. Front and rear grab handles are right where you need them. The Paddle Pocket keeps your paddle nice and secure.
Best For:
Rivers

Lakes

Bays

Yoga

Ocean
A Versatile Fishing Platform
The New Sea Eagle FishSUP™ (Fishing Inflatable SUP) is the most versatile stand up paddle board in the world. Sit, stand, fish, motor, troll - designed for fishermen always on the go.

The portable and affordable FishSUP™ is incredibly stable due to it's unique design and is easy to use. Sets up in under 10 minutes and can be outfitted with an electric trolling motor.

Say goodbye to lugging around a heavy boat and trailer plus the unnecessary fees. And say hello to portability and convenience. The FishSUP™ stows in your car trunk ready to go.

Featuring a protective, non-slip EVA foam deck pad (great for standing or sitting), a built-in 36" Fish Ruler, 14 D-rings for attaching various accessories and gear, removable rear motor mount (for up to a 55 lb. thrust electric trolling motor), front laced elastic cord system (for securing gear) and 4 conveniently located grab/carry handles (for ease of transport, launching and beaching your FishSUP™).
Best For:
Fishing

Bays

Rivers

Lakes